2022 was a year marked by triumph in the wake of tragedy. Across the country, gun violence reached record levels as communities continued to grapple with the fallout from two years of COVID-related disruptions to the economy, education and daily life. Firearms became the leading cause of death for children and teens, and gun violence continued to shatter families and communities as grocery stores, schools, nightclubs, workplaces, homes and more became the scenes of senseless shooting tragedies.
But the gun violence prevention movement also accomplished the most significant federal progress in a generation, successfully urging members of Congress to pass the Bipartisan Safer Communities Act to strengthen our federal gun laws, while also confirming a director of the ATF for the first time in seven years. We continued making life-saving progress at the ballot box, electing gun sense champions at every level of government, and expanded a gun sense majority to the U.S. Senate.
Moms Demand Action and Students Demand Action volunteers passed more than four dozen gun safety laws in states including Colorado, Rhode Island and Tennessee, while defeating 95 percent of the gun lobby's priority legislation in states including Alaska, Idaho and Louisiana. And, in the wake of the Supreme Court's dangerous ruling in New York State Rifle & Pistol Association, Inc. v. Bruen, we immediately got to work, passing state laws that bolster protections against the wrongheaded decision.
This year, Moms Demand Action volunteers marked 10 years of life-saving progress at the local, state and federal levels. And we grew to nearly 10 million supporters to create the largest and most diverse coalition of gun violence prevention advocates in America. In 2022, we rose to meet challenges and tragedy with courage and unity, and we'll continue fighting to save lives for decades to come. Read on for more about the progress we accomplished this year and what's ahead in the year to come.
Spotlight: Taking Historic Federal Action in the Wake of Tragedy
After the tragic shootings in Buffalo, New York and Uvalde, Texas this summer, Everytown's grassroots networks—Moms Demand Action and Students Demand Action—refused to accept hollow thoughts and prayers and continued inaction from Congress. The movement building we did over the past 10 years allowed us to mobilize our supporters at a pivotal moment in our country's history, forcing progress in a way that would have been unimaginable even a few years ago. Together with gun violence survivors, Moms Demand Action and Students Demand Action volunteers united to send a clear, urgent message to senators: Don't look away.
Two days after the shooting in Uvalde, Students Demand Action volunteers organized more than 200 school walkouts across the country to demand the Senate act on gun safety. Moms Demand Action and Students Demand Action volunteers also held a landmark press conference, followed by two major rallies on Capitol Hill where movement leaders, gun violence survivors and gun sense champions, including Speaker of the House Nancy Pelosi (D-CA), Senate Majority Leader Chuck Schumer (D-NY), Senators Chris Murphy (D-CT) and Cory Booker (D-NJ) and others joined us in demanding Congress break the logjam and pass federal legislation.
We centered this issue in the public consciousness by holding more than 350 events across all 50 states for Wear Orange weekend. To keep the pressure on and demand immediate action, Everytown also launched a $400,000 ad campaign targeting key U.S. senators urging them to take action. And as senators engaged in their discussions, our volunteers continued to show up in their D.C. offices, at their airports as they traveled to and from D.C., and in their home states. In total, we drove more than one million calls and messages to the Senate, refusing to let lawmakers off the hook.
Our efforts culminated in the passage of the Bipartisan Safer Communities Act, the first major piece of federal gun safety legislation to become law in nearly 30 years. The bill passed over the objection of the NRA and is a historic victory for the gun violence prevention movement, and Everytown experts played a key role advising senators in its drafting, negotiation, and passage behind the scenes. The result is a multifaceted bill that addresses all forms of gun violence without any gun lobby giveaways. The new law establishes enhanced background checks for gun buyers under the age of 21 and provides $750 million in much-needed funding to support crisis intervention services and the implementation of state Red Flag laws. It disarms domestic abusers by preventing those who were convicted of abusing their dating partners from buying guns, clarifies existing law on what it means to be "engaged in the business" of selling firearms to expand background checks and provides new tools to address interstate gun trafficking. It also provides $250 million in dedicated funding for evidence-informed, community-based violence intervention programs, which have been proven to make a life-saving impact in communities most affected by gun violence.
While our fight for gun safety continues at the local, state, and national levels, this historic federal victory would not have been possible without the work of Everytown's nearly 10 million supporters, who made it clear that Americans would not accept anything short of major gun safety legislation in the wake of the Buffalo and Uvalde mass shooting tragedies.
Spotlight: Celebrating 10 Years of Life-Saving Advocacy
Such progress was possible because of the foundation our grassroots movement built over the past decade. Ten years ago, when Congress failed to pass federal legislation in the wake of the Sandy Hook School shooting tragedy, we didn't give up. Instead, we dedicated ourselves to building a grassroots movement that could take on and take down the gun lobby.
At the time, a quarter of Congressional Democrats had an A-rating from the National Rifle Association, and Republican lawmakers viewed it as a badge of honor. The gun lobby and its supporters had the power to drive thousands of calls to Congressional switchboards to block key gun safety legislation—and they did. We knew we needed to become the proverbial David to the NRA's Goliath, and so we threw ourselves into the unglamorous, heavy lifting of grassroots activism—educating voters, meeting with state, local and federal lawmakers and calling for stronger gun laws in statehouses and in the streets.
It worked. When it came time to muster all of our resources to pass the Bipartisan Safer Communities Act, we did—and at least one Republican senator reported receiving 10 constituent calls in support of the bill for every one call against it. In all, 15 Senate Republicans joined every Senate Democrat in voting for the bill. That's in part because over the past decade, we've successfully transformed the NRA's A-rating into a scarlet letter—not a single Congressional Democrat has one, and an increasing number of Congressional Republicans are eschewing it as well.
Most of all, our red shirts have come to represent progress on an issue that once felt hopeless and intractable. Over the past 10 years, Moms Demand Action volunteers have successfully pushed policymakers on school boards, city councils, in statehouses and in Congress to act on gun safety. We've racked up legislative wins in red, purple and blue states while defeating priority gun lobby-backed bills year after year. We've spent hundreds of thousands of hours making calls, sending messages, hosting meetings and testifying and rallying at statehouses.
Moms Demand Action and Students Demand Action volunteers have also become political powerhouses in their own right. A year after Everytown Victory Fund launched Demand a Seat, a program to recruit and train the next generation of gun sense candidates and campaign workers, a record number of Moms Demand Action and Students Demand Action volunteers launched campaigns for elected office. More than 275 volunteers and gun violence survivors ran in the 2021-22 election cycle and 158 won their races.
But for us, progress isn't just about passing laws—it's about changing our culture. We've shown that gun violence is an issue that concerns every American and we've successfully reframed it from a political third rail to a public health issue that demands a bipartisan response. We've created a movement that welcomes everyone, including parents, students, gun violence survivors, educators, health care professionals, faith leaders, mayors, artists and law enforcement leaders. Ten years into this fight, our diversity continues to be our greatest source of strength.
Read on for an in-depth look at all that our movement has accomplished this year—and what we're looking forward to in 2023.
Proving Gun Safety is a Winning Issue on the Campaign Trail
Everytown, Moms Demand Action and Students Demand Action went all in this election cycle, breaking new strategic ground with our messaging, spending and get out the vote efforts. We flipped the script on what it means to keep communities safe and showed that strong gun safety messaging can be an antidote to messaging that Democrats are weak on crime.
In election after election, opponents of gun safety legislation have repeatedly used crime and public safety as major lines of attack in campaign ads. All too often, these attacks go unanswered, despite the fact that they are often coming from the very same candidates standing in the way of the policies proven to protect our communities and law enforcement.
Everytown Victory Fund and Action Fund entered this election cycle ready to chart a new course for how gun sense candidates can not only neutralize attacks on public safety, but use gun safety to turn the tables on those making the attacks, starting with a messaging survey of nearly 18,000 likely voters that informed paid communications. Everytown aggressively made the case that gun lobby candidates are a risk to our health and public safety—supporting abortion bans, opposing common sense gun safety laws and putting families and law enforcement in danger.
Everytown created a successful roadmap gun safety candidates can replicate in coming cycles to not only neutralize attacks on crime, but go on the offense against their opponents—and Everytown's electoral investments were critical in re-electing the Senate's gun sense majority and sweeping gun sense champions to victory up and down the ballot. The 2022 midterm election results prove this type of messaging effectively persuades and motivates voters candidates need to win elections and should continue to be a centerpiece of gun sense candidates' public safety messaging.
Exit poll data confirmed the fundamental politics on gun safety has changed, and it is now the issue to run and win on with several key demographics. Fifty-six percent of 2022 voters supported stricter gun safety measures and gun safety consistently ranked among the top concerns for voters. As NBC News reported, "It's a far cry from a decade ago, when Democrats tended to fear single-issue pro-gun voters would overwhelm gun control proponents and punish them at the ballot box for pursuing tougher laws against firearms." Moms Demand Action and Students Demand Action volunteers, called, texted, knocked on the doors of and reached out to more than six million voters this cycle to elect gun sense candidates at every level of government.
We also awarded a record-breaking number of Gun Sense Candidate distinctions, which convey to voters that a candidate has pledged to govern with gun safety in mind. A record 5,000 candidates across all 50 states and Washington, D.C. received the distinction this cycle, and this was the first year that candidates at all levels of government were eligible to apply, including those running for local offices like school boards.
All told, it was a historic year for gun safety at the ballot box. Some of the highlights from this year's election cycle include:
A significant portion of our investment this cycle was focused on governor's races as well as down-ballot races where we engaged strategically and maximized our return on investment. While these races might not get as much attention as those at the top of the ticket, they represent elected positions that are critically important to passing, implementing and enforcing gun safety laws. In particular, when sheriffs join the dangerous, gun-extremist "Second Amendment Sanctuary" movement by pledging to not enforce gun laws, it can have deadly consequences, as we recently saw with the Club Q shooting tragedy targeting the LGBTQ+ community in Colorado Springs.
Some of Everytown's major down-ballot investments this cycle included:
A $1 million investment in secretary of state elections, electing candidates in Arizona, Colorado, and Michigan who will ensure free and fair elections.
A $500,000 sheriff engagement program, successfully ousting 25-year incumbent Bristol County Sheriff Tom Hodgson in Massachusetts and electing John Allen as Bernalillo County Sheriff in New Mexico.
A $700,000 investment in state Supreme Court elections this cycle, helping protect and expand gun sense majorities on the court in both Michigan and Illinois.
These investments and the power of our grassroots volunteers helped sweep gun sense candidates to victory across the country this year. Everytown-endorsed candidates faced NRA-endorsed candidates in 56 races up and down the ballot in 2022 and we won more than 73 percent of those races. But the gun lobby also showed it will continue to use its power to fight against gun safety laws at every turn, which is why we will continue to hone our playbook to persuade and motivate key constituencies.
Flexing Our Grassroots Power
A decade ago, gun safety was considered the third rail of American politics—and the NRA wielded outsized influence on Capitol Hill by mobilizing its supporters against gun safety legislation. After the defeat of the Manchin-Toomey background check bill in 2013, our movement realized we needed to become bigger and louder—and that's exactly what we did.
We've spent the past ten years building a grassroots movement capable of recruiting, training and retaining tens of thousands of volunteers. We now have Moms Demand Action chapters in every state and Students Demand Action groups on campuses across the country. Together, we've shown Americans from all walks of life that there is a place for them in the gun violence prevention movement, whether they're survivors, gun owners, Democrats, Republicans or independents. Our grassroots power is what gives depth and breadth to our fight for gun safety, and it's what has allowed us to continue to make an impact from Congress to statehouses, school boards to boardrooms, in communities, and beyond.
2022 was a major movement building year in which we welcomed tens of thousands of new volunteers and elected a record number to public office. We expanded our work with students and gun violence survivors, and forged new paths for change. That was all on display as we hosted our ninth annual Gun Sense University in July. It was our largest gathering ever: more than 2,500 volunteers, students and gun violence survivors came together virtually and in person to learn, share, celebrate successes and prepare for the work ahead.
We also presented our annual Gun Sense Lawmaker of the Year awards to federal, state and local level gun sense champions. Senators Chris Murphy of Connecticut and Kyrsten Sinema of Arizona were recognized with Everytown's Federal Gun Sense Lawmakers of the Year Award, State Senator Dr. Michelle Au of Georgia was recognized with Everytown's State Gun Sense Lawmaker of the Year Award and Mayor Quinton Lucas of Kansas City, Missouri was recognized with Everytown's Local Gun Sense Lawmaker of the Year Award. U.S. Rep. Lucy McBath of Georgia was presented with our inaugural Demand a Seat Lawmaker of the Year Award.
Here's more on how we've built our grassroots movement in 2022:
Volunteers Go from Advocating for Policy to Writing It
Since 2017, hundreds of Moms Demand Action volunteer leaders have run for elected office and dozens have won seats—from town councils and school boards to Congress. And in 2021, Everytown for Gun Safety Victory Fund launched Demand a Seat, an effort to build a pipeline of gun sense candidates across the country.
Demand a Seat trains volunteers and gun violence survivors across the country to run for office themselves and work on campaigns. The program invested $3 million to create educational training and mentorship opportunities for grassroots volunteers considering campaigns at the local, state and federal levels last year, and by the end of 2022, has graduated three cohorts of nearly 400 participants, many of whom launched campaigns this year.
During the 2021-2022 election cycle, more than 275 volunteers ran for office, and a record-breaking 158 volunteers won their races. 41 percent of them were first-time candidates or challengers.
With their victories, our volunteers ushered in a number of historic firsts and flipped key institutions, including:
In Minnesota, six Moms Demand Action volunteers—all women—won their elections, flipping the state Senate and delivering a gun sense trifecta, with majorities in the state House, state Senate and Governor's mansion. Among them is Erin Maye Quade, a former Minnesota state Representative and Moms Demand Action volunteer who will represent District 56 as one of the first Black women and one of the first LGBTQ+ women ever elected to the Minnesota state senate.
In Rhode Island, seven of eight Moms Demand Action volunteers who ran for office won. They include Jennifer Boylan, who has spent countless hours as a volunteer working to pass strong gun laws over the past decade. She'll now lead on this issue as the Rhode Island State Representative for District 66.
In Oregon, nine Moms Demand Action volunteers, including six in the state legislature, won their elections along with Mayor-elect Melanie Kebler of Bend, Oregon—who we look forward to welcoming into Mayors Against Illegal Guns.
In Michigan, nine Moms Demand Action volunteers won their elections, flipping the statehouse to a gun sense majority and delivering the first gun sense majorities in nearly 40 years.
In Indiana, Moms Demand Action volunteer Andrea Hunley was elected to District 46 in the state Senate, becoming the only Democrat freshman senator in the statehouse and the first Black person to ever represent her district.
In Missouri, Moms Demand Action volunteer Jamie Johnson won her race to represent District 12 in the Missouri House of Representatives, flipping the seat and becoming the first Black woman to ever be elected to the state legislature from Platte County.
In Illinois, Moms Demand Action volunteer Nabeela Syed, a Muslim, Indian American woman, flipped a GOP-held district to become the youngest member of the Illinois General Assembly.
In Iowa, redistricting pitted state Senator and former Moms Demand Action volunteer Sarah Trone Garriott against the state's NRA-backed Republican Senate president—and she won.
In Colorado, Tom Sullivan, a survivor from Aurora and a Moms Demand Action volunteer, won his bid for state Senate and will represent District 27.
Students Demand Action
An entire generation has been forced to grow up living in fear of gun violence at schools, sports fields, concerts, parks and so many other places that should be part of safe, happy childhoods. But young people are also leading the fight for gun safety, and this year, Students Demand Action grew to include more than 550 groups across the country, buoyed by more active volunteers than ever before.
Their work has never been more urgent. Guns are now the leading cause of death for children and teens in this country, and Black and Latinx youth bear the disproportionate brunt of this public health crisis. During the 2021-2022 school year, there were nearly four times the average number of incidents of gunfire on school grounds—the highest figure since Everytown began tracking these trends in 2013.
In response, Students Demand Action volunteers showed up in their communities, their statehouses and in their representatives' offices on Capitol Hill to demand action—and it worked. Across the country, students made an impact—and spoke out on the national stage. In April, Mia Tretta, a Students Demand Action leader and gun violence survivor, introduced President Joe Biden in the White House Rose Garden as he announced the finalization of his administration's rule on ghost guns.
Then, in the wake of the tragedies in Uvalde and Buffalo, Students Demand Action leaders staged hundreds of school walkouts, held rallies in Washington, and met face to face with lawmakers to make sure they couldn't look away from our country's gun violence epidemic.
But these young advocates didn't stop after a summer filled with progress. They showed right back up in November to vote their values and urge others to do the same, helping to re-elect a gun sense majority in the U.S. Senate.
Through their tireless advocacy, innovative campaigns and incredible get out the vote efforts, Students Demand Action volunteers have proven time and again that they are the future of the gun violence prevention movement, and they're making a historic impact today.
Survivors
Gun violence survivors are the North Star of our movement, and they continued to turn their pain into purpose in 2022. In February, gun violence survivors and Moms Demand Action and Students Demand Action volunteers organized nearly 100 events across the country and worked with more than 115 members of Congress, 175 mayors and state and federal officials, and more than 60 partner organizations for the fourth annual National Gun Violence Survivors Week. It was the largest and most impactful elevation of survivors' voices and experiences yet.
Throughout the year, the Everytown Survivor Network continued to offer trauma-informed programs to empower and support gun violence survivors and create peer-to-peer connections. The Network also welcomed 45 new survivor leaders as part of the 2022 Survivor Fellowship program. Throughout the year, survivor fellows found innovative ways to collectively speak at hundreds of events and share their personal stories, from the national Facing Race conference to the Conference on Crimes Against Women.
The Everytown Support Fund also allocated nearly $60,000 in grants to assist charitable organizations that work to support gun violence survivors by offering services and elevating survivor voices in communities disproportionately impacted by gun violence.
The Strongest Gun Safety Presidential Administration Keeps Taking Action
2022 was a historic year for gun safety at the federal level thanks to the significant legislative accomplishments from gun sense majorities in Congress and the bold leadership of the Biden-Harris Administration. In addition to championing, signing, and implementing the Bipartisan Safer Communities Act, the Biden-Harris Administration continued to take important executive actions, such as releasing the first volume of a new, annual comprehensive report on firearms trafficking, cracking down on rogue gun dealers, expanding a grant program focused on disarming domestic abusers, finalizing a regulation to promote secure gun storage, making schools safer by expanding programs to promote secure gun storage, implementing the 988 National Crisis Hotline as part of ongoing suicide prevention efforts, and distributing $100 million in funding for community violence intervention programs.
Combating the Spread of Ghost Guns
In April, President Biden announced the finalization of his administration's life-saving ghost guns rule. Under the leadership of President Biden, the Bureau of Alcohol, Tobacco, Firearms and Explosives proposed the rule in May 2021 as part of a slate of executive actions to curb gun violence. Moms Demand Action and Students Demand Action volunteers and Everytown supporters drove nearly 100,000 comments in support of the proposed rule—and Everytown ran digital ads urging the Bureau of Alcohol, Tobacco, Firearms and Explosives (ATF) to finalize it.
While the rule now requires implementation and enforcement from the ATF, the finalization of the ghost guns rule—which went into effect in August—was a major victory for the gun violence prevention movement.
Confirming the First ATF Director in Seven Years
While announcing the finalization of the ghost guns rule, President Biden nominated Steve Dettelbach to lead the ATF, which plays a key role in going after gun traffickers and ensuring our gun laws are enforced. The agency, however, has lacked a Senate-confirmed director for seven years, allowing rogue gun dealers to go unchecked. Dettelbach, who had decades of experience as a prosecutor, received strong support from Everytown, Moms Demand Action, Students Demand Action and Mayors Against Illegal Guns, and our supporters ultimately drove over 900,000 calls and messages to senators in support of his confirmation.
With the endorsement of a broad bipartisan coalition of law enforcement officers, former prosecutors, former ATF directors, medical professionals and community leaders, Dettelbach was confirmed with bipartisan support by the Senate in July. Just a few months into Dettelbach's tenure, new ATF data shows the agency and the Biden-Harris Administration are holding rogue gun dealers accountable by cracking down on willful violations of the law.
These key White House victories complement the progress made by the gun sense majorities in the House of Representatives and Senate in 2022—including reauthorization of the Violence Against Women Act with a key gun safety provision included. Throughout this year, each chamber held numerous hearings on gun violence and strategies to prevent it, receiving critical testimony from Everytown policy experts.
In the second session of the 117th Congress, the House of Representatives in particular had the strongest gun safety record in history, passing the Protecting Our Kids Act, a suite of gun safety legislation that includes raising the age to purchase semi-automatic rifles, establishing a requirement to securely store firearms at home, and limiting access to high-capacity magazines. The Protecting Our Kids Act also includes a public safety package that uses the Break the Cycle of Violence Act to fund evidence-informed community violence intervention programs, as well as a bill to create a federal extreme risk law and support and incentivize states with these laws already on the books and a bill to regulate assault weapons—all of which President Biden has supported.
As we look ahead to 2023, Everytown, Moms Demand Action and Students Demand Action will continue to work with the gun safety majority in the Senate, gun sense champions in the House and the Biden-Harris Administration to ensure robust implementation and strong enforcement of the Bipartisan Safer Communities Act and our gun laws as a whole.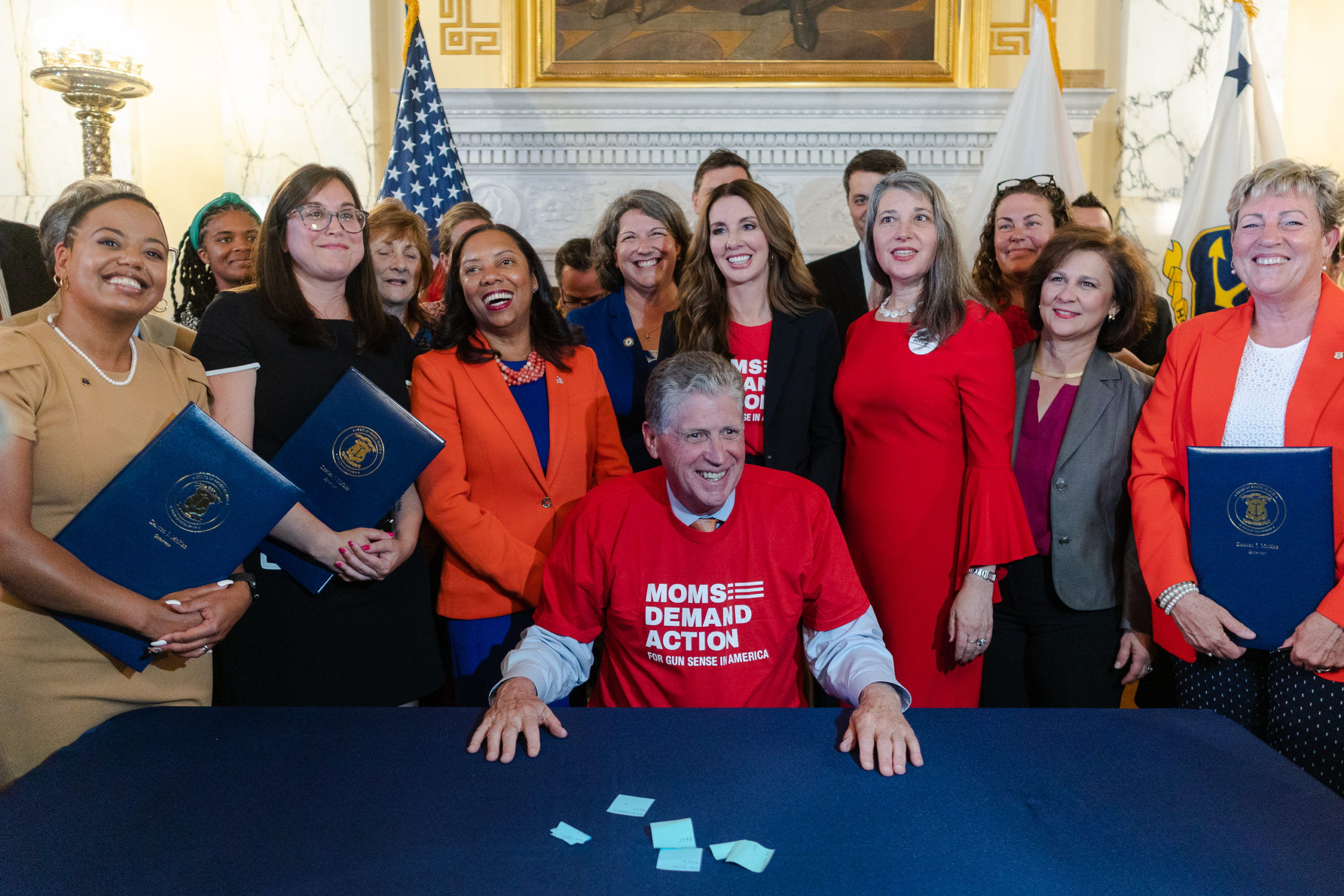 Achieving Life-Saving Action in the States
In 2022, state lawmakers and governors enacted at least 51 gun safety bills, invested $860 million in gun violence prevention and local violence intervention and prevention programs, and rejected dozens of extreme gun lobby-backed bills to weaken gun laws. Moms Demand Action and Students Demand Action volunteers made this work possible through countless emails, phone calls, in-person and digital meetings and advocacy days. Some of the legislative victories we achieved this year include:
Standing Up To A Dangerous Supreme Court
Following the dangerous Supreme Court decision striking down New York's century-old concealed handgun carry permitting law, states with similar laws to New York's responded quickly with legislation to protect their own permitting processes, ensure that anyone seeking a permit was properly vetted, and keep guns out of public places ​​where they don't belong—like daycares, polling places, government buildings and bars. New York and Massachusetts have already passed such legislation, with New Jersey expected to act soon.
Responding To Tragedy With Action
New York lawmakers and Governor Kathy Hochul responded to the horrific mass shooting in Buffalo by passing a 10-bill package to, among other things, strengthen New York's Red Flag law and high capacity magazine prohibition, and raise the age to purchase a semi-automatic rifle to 21. Dozens of states—from Vermont to California followed suit and strengthened their gun laws.
Innovating In The States
We've learned over the past 10 years that state gun safety laws are often a blueprint for federal action, and several states passed innovative policies to prevent gun violence in 2022, including:
Delaware, New Jersey, and California passed bills to make it possible to hold bad actors in the gun industry accountable for their role exacerbating the gun violence crisis. New York and California also passed legislation creating a firearm dealer code of conduct that goes beyond federal law. California passed legislation prohibiting the firearm industry from marketing firearms to minors.
California passed a first-of-its kind bill to require every public school in the state to send home information to parents and caretakers about the life-saving importance of securely storing firearms.
Oregon passed a ballot measure prohibiting high-capacity magazines and creating a permit-to-purchase system, which will require all gun purchasers to take firearm safety training and require issuers to deny permits to people who pose a documented risk of harm to self or others.
Rhode Island, Delaware, and New York passed laws to raise the age to purchase a long gun from 18 to 21, following several instances of mass shootings carried out by young men under the age of 21.
Rejecting The Gun Lobby's Agenda
Across the country, Everytown blocked 95 percent of the gun lobby's agenda this year, with lawmakers rejecting dozens of dangerous bills following advocacy by Moms Demand Action and Students Demand Action volunteers, gun violence survivors, and gun sense candidates. In states like Nebraska and Louisiana, advocates succeeded in holding off efforts to pass permitless carry, and in the historically gun lobby strongholds of Missouri and Arizona, legislative sessions ended without a single gun lobby priority passing.
Check out the full list of gun safety bills enacted in states across the country in 2022.
While significant progress was made in the states throughout the year, mass shooting tragedies in Colorado Springs, Chicago and Buffalo, underscored the deadly consequences of failing to properly implement gun laws. Nineteen states and Washington, D.C. have an Extreme Risk law (also known as a Red Flag law) on the books, which allows family members and law enforcement to petition a court to temporarily prevent someone in crisis from accessing guns. Tragically, in each of these shootings, the state's Extreme Risk law could have been used to potentially prevent the shooter from obtaining a firearm.
Seeing a clear need to help leaders use these life-saving laws, Everytown Support Fund launched the Everytown Implementation Center, backed by an initial $2 million investment. The Everytown Implementation Center is a first-of-its-kind effort to provide comprehensive support and guidance to state and local leaders on the effective implementation of lifesaving gun laws. The Center will build on Everytown's years of legal, research and advocacy work to pass crucial gun safety laws and help states and localities develop comprehensive plans to ensure effective implementation of these laws.
Strengthening Community Efforts to Fight Gun Violence
As the coronavirus pandemic disrupted every facet of life in 2020 and 2021, cities across the country saw historic surges in gun violence, and 2022 was a continuation of that trend. This year, leaders in impacted communities doubled down on proven community-based interventions to stop the cycle of violence.
Although these types of community-based programs have proven to be effective at stopping the cycle of violence in cities, they have historically been underfunded. The Everytown Community Safety Fund was launched in 2019 to provide financial support, peer networking, and capacity-building to community-based violence intervention organizations. Since its launch, the fund has granted $8 million in support of 72 organizations implementing promising strategies including street outreach, hospital-based violence intervention and youth development and counseling in more than 57 American cities.
In August, the Everytown Community Safety Fund awarded $1.5 million in funding to 15 community-based violence intervention organizations working in cities across the country. These grantees include:
Additionally, in conjunction with Everytown's annual Wear Orange campaign, The Fund expanded its grant offerings, issuing 10 grants of $10,000 to community-based violence intervention organizations and delivering 100 hours of technical assistance in partnership with LISC. Each project and grant recipient is unique—from restoring vacant lots to creating community art installations—but all projects involve deliberate efforts to change the built environment, reduce crime and increase community safety in communities disproportionately impacted by gun violence. These grants support projects to reduce gun violence via Crime Prevention Through Environmental Design (CPTED) methods in collaboration with local chapters of Moms Demand Action and Students Demand Action.
In October, all 30 current Everytown Support Fund grantees were invited to the Community Safety Fund convening ahead of the ninth annual Cities United conference. At the convening, grantees had the opportunity to learn from each other, Community Safety Fund advisory board members and celebrate this year's accomplishments. The gathering drew more than 50 attendees for panels featuring guest speakers from the White House, the Baltimore Mayor's Office of Neighborhood Safety and Engagement, University of California-Davis and grantee leaders from across the nation.
The Community Safety Fund will further expand its grant and capacity-building offerings in 2023 to support more community-based violence intervention across the country and sustain their life saving work. In 2023, the Everytown Community Training Institute will partner with ROCA Impact Institute to pilot a 12-month intensive technical training program for three grantees. The ROCA Impact Institute is a program of ROCA, one of the former grantees, and joins the National Network for Safe Communities, Urban Peace Institute, LISC, Cure Violence, the Health Alliance for Violence Intervention, McCallister Consultancy and Training and Temple University's Dr. Caterina Roman as our core capacity-building partners.
Read More About the Impact of Everytown's Community Safety Fund Grantees
The Everytown Community Safety Fund is excited to support the local, community-based violence intervention programs that have been proven to work—with funding, peer convenings, capacity building, and advocacy support. Violence intervention programs provide community-informed, comprehensive support to people who are most at risk of gun violence and are shown to reduce gunshot… Continue
Mayors on the Front Lines of Fighting Against Gun Violence
Mayors Against Illegal Guns' growing coalition worked ceaselessly throughout the year to elevate the perspective of local leaders in national policy conversations and share resources about how to address local gun violence.
This year, for the first time since the coalition's founding in 2006, MAIG named 10 current and former mayors as new co-chairs. Over the past several months, the new class of co-chairs used their voices to help confirm the ATF director, urge action on federal gun safety legislation, and push the ATF to finalize its ghost guns rule.
MAIG Co-Chair New York Mayor Eric Adams also hosted a groundbreaking mayoral summit this July, in partnership with the African American Mayors Association, which brought together coalition members to discuss gun violence prevention and how to hold the gun industry accountable. The Summit included remarks from Founding Chair Mike Bloomberg, who launched Mayors Against Illegal Guns in 2006 at a summit in the same room when he was Mayor of New York. During the summit, MAIG members released new data on the manufacturers of guns used in crimes in their cities and called on their fellow mayors across the country to do the same in an effort to hold the gun industry accountable.
MAIG members have also been critical partners in lawsuits filed by Everytown Law. In March, a lawsuit filed with MAIG Co-Chair and Kansas City Mayor Quinton Lucas resulted in a first-of-its-kind victory for gun safety when the ATF issued a notice of license revocation to gun manufacturer J.A. Industries.
Shifting the Culture and Fostering Partnerships
Gun safety transcends politics and crosses into media, the arts and culture, and this year saw leaders and advocates from all corners of the entertainment industry joining the movement to end gun violence. In the days after the shooting in Uvalde, Everytown was invited to join Harry Styles on his sold-out American leg of "Love On Tour" to raise awareness for gun violence prevention. As part of the historic partnership, entertainment venues displayed information about Everytown and gun safety, and Students Demand Action volunteers tabled at every concert. Everytown also partnered with music festivals like Governors Ball, Ohana Music Festival and Lollapalooza, and artists including Shawn Mendes, Fall Out Boy, Tenacious D and the Tom Petty Estate.
Professional sports teams and athletes contributed their voices as well, from the New York Yankees and Tampa Bay Rays providing facts about gun violence on social media during their games, to Major League Soccer player Alejandro Bedoya being named Humanitarian of the Year for his work with Everytown. Eleven players across eight National Football League teams supported Everytown for the 2022 "My Cause My Cleats" campaign, and players from the Pittsburgh Steelers and Milwaukee Brewers took part in public service announcements to highlight local violence prevention organizations.
Gun safety was front of mind this year for advocates and leaders in film and television as well. A first of its kind study, conducted in partnership with the University of Southern California Norman Lear Center, found that when gun safety portrayals do appear on television, they can have a substantial impact on attitudes about gun storage and support for common-sense gun laws.
In addition, this year's Variety Power of Women Special on Lifetime revisited Everytown Creative Council Chair Julianne Moore's longtime activism on gun safety, while highlighting Moms Demand Action founder Shannon Watts and Everytown Survivor Fellow Melody McFadden's years of advocacy. On the film side, the Everytown Support Fund-supported documentary When Claude Got Shot won the Emmy Award for Exceptional Merit in a Documentary.
In June, people from all walks of life came together to mark the eighth annual National Gun Violence Awareness Day and participate in the eighth annual Wear Orange campaign. All told, more than 1,500 partner organizations, influencers, corporate brands, elected officials and 90 professional sports teams joined in the campaign.
More than 300 landmarks, including the White House, were illuminated orange, and President Biden, Speaker Pelosi, Leader Schumer, Julianne Moore, Julia Louis-Dreyfus, Kerry Washington and brands like Levi Strauss & Co., Yahoo!, and MTV Entertainment Studios joined in our call to end gun violence. Thousands of Moms Demand Action and Students Demand Action volunteers hosted more than 370 Wear Orange events and activities in all 50 states and Washington, D.C.
Secure Storage
Everytown, Moms Demand Action and Students Demand Action continued changing the culture around secure gun storage in 2022. Thanks to our volunteers' hard work, more than eight million students across the country will live in a school district that requires schools to educate parents about the critical importance of secure firearm storage next school year.
It's the result of tireless, district-by-district advocacy. Over the past several years, Moms Demand Action and Students Demand Action volunteers have successfully urged school boards to enact secure storage notification policies in school districts in Alaska, Arkansas, Washington, Massachusetts, Vermont, Texas, California, Arizona, Oregon, New Mexico, Florida, Virginia, Michigan, and Colorado.
And ahead of National Injury Prevention Day in November, Safe Kids Worldwide and Be SMART, a national campaign of Everytown for Gun Safety Support Fund, announced a partnership to educate parents and other adults about the importance of secure firearm storage, affirming a shared commitment to promoting secure storage as a crucial component of child safety. Shortly after, the National Organization of Black Law Enforcement Executives (NOBLE) announced a first-of-its-kind partnership with Be SMART. The partnership, which encourages responsible gun ownership and safety practices, launched with six police chiefs and sheriffs in cities across the country agreeing to distribute secure firearm storage information and gun locks to local residents.
Expanding our Work in Latinx Communities
Latinx communities experience gun violence at rates disproportionate to their white peers. Each year, more than 4,100 Latinx people die from gun violence in the U.S—an average of 11 deaths every day—and 13,300 are shot and wounded.
This staggering statistic was reinforced during the tragedy in Uvalde and throughout the year. Everytown has worked to not only speak directly to Latinx communities across the country, but to understand how gun violence can be a motivating factor when it comes to keeping our communities safe. Throughout the year, Everytown Support Fund held Latinx listening sessions in Chicago, Orlando, El Paso, and San Juan, Puerto Rico, bolstered by a partnership and grant from Hispanics in Philanthropy.
The NRA Becomes a Dwindling Kingmaker
As the gun violence prevention movement achieved historic victories in 2022, the NRA continued its downward spiral. Simply put, the legal and financial problems the organization faces pose an existential threat.
The biggest legal hurdle for the NRA remains the lawsuit brought by New York Attorney General Letitia James. While dissolution of the organization is now off the table as a remedy, the case continues to make its way through the judicial system and could still result in the removal of longtime CEO Wayne LaPierre, disqualifying him from ever serving in non-profit leadership again.
In June, the NRA was handed a major loss as a judge dismissed all of the NRA's counterclaims against the New York Attorney General's office. It's increasingly clear that this case will be headed to trial soon and the NRA is running out of options to delay. Moreover, the NRA also faces a lawsuit by the D.C. Attorney General's Office alleging violations of charity laws relating to financial transactions between the NRA and its foundation.
The NRA's financial filings confirm recent reporting that revenue continued to drop in 2021, down nearly 15 percent from the year prior and continuing the trend we've seen over the past few years. Revenue from members' dues were down to a more than 10-year low. At the same time, legal fees continue to dominate the NRA's balance sheet, with over $36 million paid in outside legal expenses in 2021. The staggering figure means that fees for outside attorneys account for nearly 40 percent of the revenue the organization brought in from member dues. And recent reporting suggests the NRA's 2022 financial outlook has only gotten worse.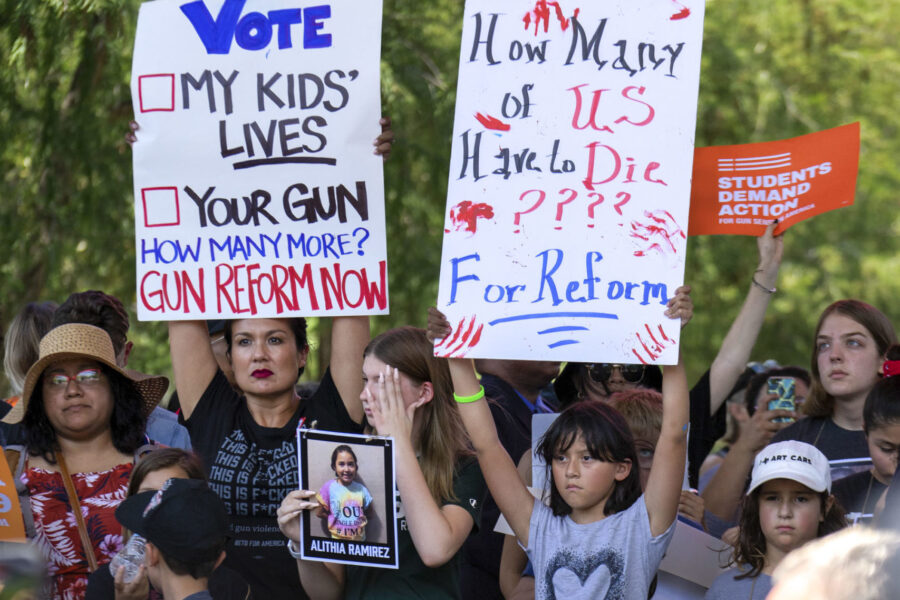 The NRA also suffered a series of major political and legislative losses this year. The organization's annual members' meeting in May took place in Houston just three days after the tragedy in Uvalde. As the organization chose to double down on extremism and go forward with the event, thousands of Texans gathered outside the convention hall to protest. Everytown Support Fund partnered with Jenny Holzer, a renowned visual artist, to deliver a powerful message on the deadly toll of gun violence with LED trucks that circulated near the convention hall and around Houston to make sure the NRA's leadership and members knew the human cost of their extremist agenda.
And despite the NRA's vocal opposition to the Bipartisan Safer Communities Act and Dettelbach's confirmation, both passed the Senate with Republican support. Ignored by many in Congress, the NRA endorsed a slew of 2020 election deniers ahead of the midterms, continuing its embrace of right-wing extremism. Citing Everytown research, the Washington Post reported that 52 percent of A-rated candidates by the NRA were full-blown election deniers. It was a bet that didn't pay off: the NRA spent over $10 million of its dwindling funds only for voters to re-elect a gun sense majority to the Senate. With a trial likely next year, coupled with a precarious financial situation and declining influence on Capitol Hill, 2023 is unlikely to be much better than this already disastrous year for the NRA.
Holding the Gun Industry Accountable
As the NRA continues to be sidelined in court, Everytown shined a light on the gun industry that has long benefited from a legal shield known as the Protection of Lawful Commerce in Arms Act (PLCAA). This unprecedented protection has largely exempted the gun industry from accountability and regulatory supervision.
But just as the opioid and tobacco industries have been held accountable, so too will be the gun companies that make, market, and profit from the sale of deadly weapons. Everytown is working to ensure Americans know that deliberate choices made in gun industry boardrooms aren't unrelated to our nation's gun violence epidemic. In some of Everytown Law's most important work, lawyers are representing gun violence survivors as they share their stories in the fight to hold the gun industry accountable for its role in our nation's gun violence epidemic, including:
Highland Park
Everytown Law is representing survivors of the mass shooting at Highland Park's Fourth of July Parade and, in September, filed a set of lawsuits against the individuals and entities responsible for the shooting — including gunmaker Smith & Wesson, online gun distributor Bud's Gun Shop, Illinois gun retailer Red Dot Arms, the shooter, and the shooter's father. Everytown Law is representing the survivors alongside a coalition of private and public interest law firms.
Uvalde
Everytown Law is representing Sandra Torres, whose daughter Eliahna Torres was murdered along with most of her 4th grade class at Robb Elementary School on May 24. Eliahna was 10 years old when she died. The suit brings claims against the school district and the police department and individuals within it for failing to protect the students and stop the shooting. It also brings claims against Daniel Defense, the gun manufacturer of the assault rifle the shooter used, and Oasis Outback, the gun shop where the perpetrator bought it.
Ghost Gun Mass Shooting Survivor Mia Tretta
Everytown Law achieved a significant victory in 2022 on behalf of Mia Tretta, a survivor of the 2019 Saugus High School shooting, when a California court rejected a motion to dismiss her case against an online seller of the kit and parts that were assembled into the ghost gun that was used to shoot Mia, kill two of her classmates and injure others. Mia is

represented by Everytown Law and by Walkup, Melodia, Kelly and Schoenberger

, a San-Francisco-based firm. This lawsuit is the first case brought against a ghost gun kit seller to proceed to the trial phase.
This summer, Everytown Law called on the Federal Trade Commission to investigate gun manufacturer Daniel Defense's marketing of its assault weapons, particularly to young men. The complaint presented evidence that Daniel Defense is using "violent and militaristic imagery, unfairly implying that civilians can use their weapons for offensive combat-like missions, and appealing particularly to the thrill-seeking and impulsive tendencies of susceptible teens and young men who are attracted to violence and military fantasies."
And in a first-of-its-kind victory earlier this year, amid a lawsuit brought by Everytown Law, the State of Illinois and the City of Kansas City, Missouri, the ATF issued a notice of license revocation to gun manufacturer J.A. Industries, the successor company of now-bankrupt Jimenez Arms, Inc. The lawsuit cited evidence that Jimenez Arms repeatedly broke federal firearms law, contributing to gun trafficking and criminal activity in Illinois and Kansas City, and that its owner misled the ATF in previous licensing applications.
Building on this historic year for gun industry accountability, Everytown is committed to making its case—in courtrooms, statehouses and with the public—against reckless actors in an industry that is profiting off of a public health crisis.
Conducting Groundbreaking Research
As advocates, journalists, and policymakers sought clear analysis about America's gun violence epidemic in 2022, Everytown Support Fund's research provided important context and gun safety solutions.
Everytown Support Fund started the year by launching a new, nationwide interactive gun law platform analyzing 50 policies in all 50 states, showing the direct correlation between a state's gun laws and the state's rate of gun deaths. The analysis revealed that states with strong gun safety policies have lower rates of gun violence while states with weaker gun laws have higher rates of gun violence.
Everytown Support Fund's research informed policymakers and U.S. Supreme Court dissenting opinions, as well as parents and students as they headed back to school months after the Uvalde shooting tragedy and amid yet another year of record levels of gunfire on school grounds. Everytown, Moms Demand Action and Students Demand Action responded to this crisis with action, releasing an updated, comprehensive plan to end gun violence in schools.
Throughout 2022, Everytown Support Fund researchers continued to be a leading force in providing and disseminating critical data and analysis, including by authoring reports on:
Empowering States in a Post-Bruen Legal Landscape
In state and federal courts across the country and the Supreme Court of the United States, Everytown Law expanded its efforts to defend the gun safety movement's progress, pursue accountability and prompt long-overdue action.
Empowering States in a post-Bruen Legal Landscape
The Supreme Court's extreme and dangerous ruling on New York State Rifle & Pistol Association, Inc. v. Bruen is out of touch with the overwhelming majority of Americans who support gun safety measures and has opened the door to dangerous and radical decisions from lower courts.
That's why in the wake of the ruling, leaders in New York and several other states passed measures to protect and strengthen other important aspects of their permitting systems and prohibit guns in sensitive places like public transportation, daycares, bars, and playgrounds. To support these efforts, and to support the work of states and localities across the country enacting and enforcing life-saving gun safety laws, Everytown Law announced the launch of the Everytown Center for the Defense of Gun Safety. The center assists state attorneys general and local government lawyers in defending against Second Amendment challenges to gun safety laws and is dedicated to the development of critically important post-Bruen Second Amendment jurisprudence. The center is advised by a group of leading constitutional scholars, litigators, and policy experts.
Everytown Law's Second Amendment lawyers are now working to shape the post-Bruen legal landscape through amicus briefs. Between August and mid-December, they filed 14 briefs in cases around the country, defending laws including:
New York's law strengthening its permitting system and designating locations where guns cannot be carried;
Illinois's law restricting guns in home daycares and foster homes;
Pennsylvania's and Minnesota's laws restricting individuals under 21 from carrying guns in public;
Washington, D.C.'s prohibition of guns on the Metro.
Everytown Law's attorneys are also directly representing localities facing Second Amendment or equivalent state constitutional challenges in both Fairfax County, Virginia and Superior, Colorado.
What's Next
In the wake of tragedy and after making historic progress at every level of government in 2022, Everytown, Moms Demand Action and Students Demand Action head into the new year stronger and bigger than ever before. In 2023, we'll build on our life-saving work and continue to champion innovative solutions and take meaningful action to address gun violence.
Moms Demand Action and Students Demand Action volunteers and gun violence survivors are active in every single state and are advocating for gun safety where they live, work and learn. Moms Demand Action will celebrate 10 years of activism in 2023, honoring the milestone with tireless action including advocacy days at statehouses, community events and celebrations. We'll continue to make our iconic red shirts ubiquitous wherever decisions about gun safety are made, and be tenacious, committed partners in the fight for gun safety.
We'll also bolster our efforts to hold the gun industry accountable for its role in our nation's gun violence epidemic through the legal system and the court of public opinion, shedding light on its dangerous business practices. And we'll continue to work on the ground to support local gun violence prevention groups and community partners as we enter the next decade of this fight. Together, we'll continue to save lives—and nothing will stand in our way.